Carbonation Kit
Carbonate water and Fruit at Home!
After a bit of research and a little trial-and-error, I think I've pieced together a pretty good system for carbonating beverages and fruits. Not much of this is original - most of my ideas came from Richard Kinch's website and Evil Mad Scientist, with the exception of using the Kent Systems Quick Couplings. The couplings are cheaper than ball lock bottle accessories, so you can carbonate lots of bottles at once, and they don't require any fabrication.
The key to carbonating fruit is having a bottle with an opening big enough for big pieces of fruit (small fruit like blueberries can be carbonated in a regular soda bottle). Kinch's page shows someone using water filter canisters, which are deigned for high pressure. I added the safety valve because I like being safe, and I didn't want a pressurized canister to explode in my car if I forgot about it.
- Will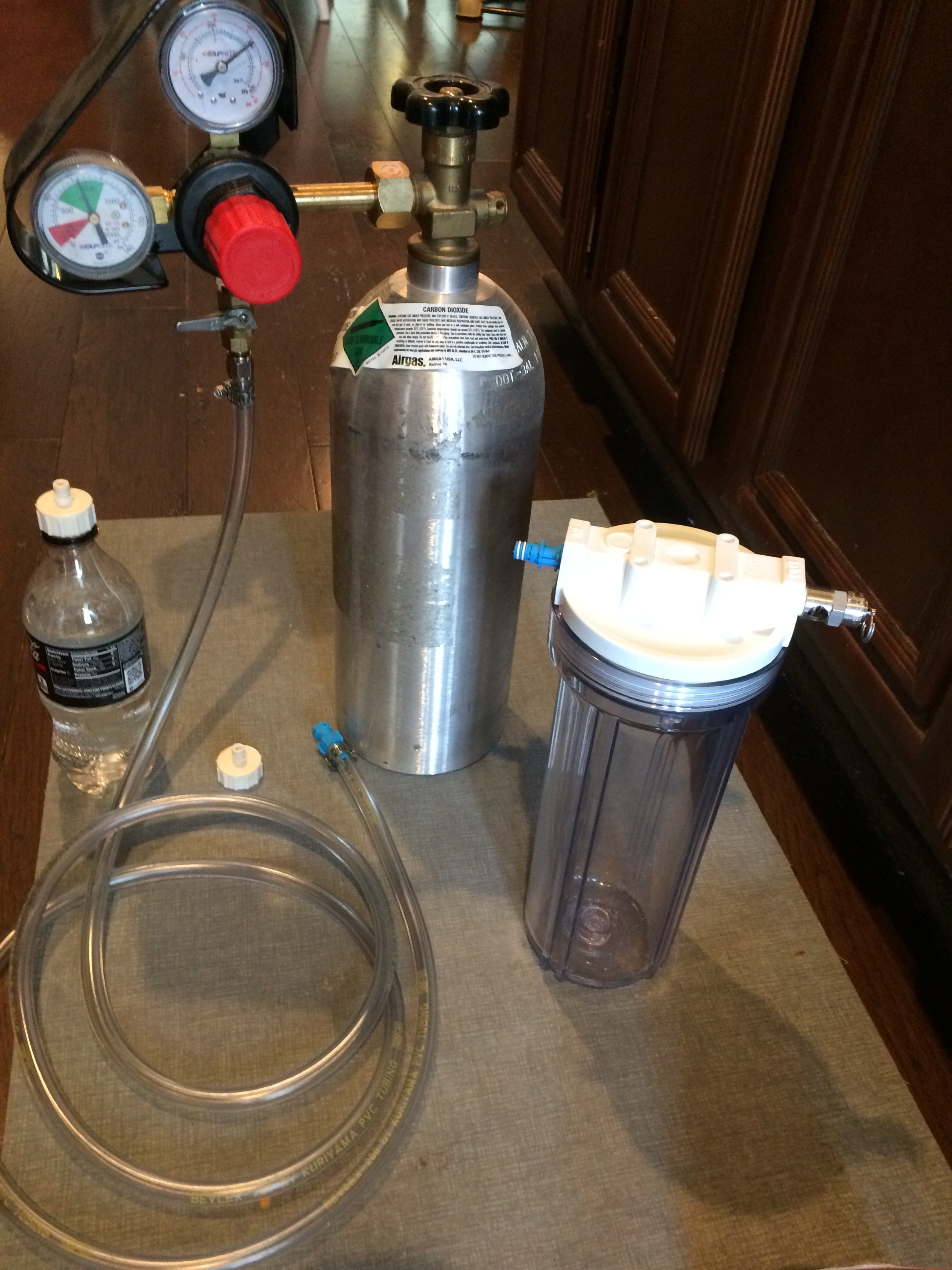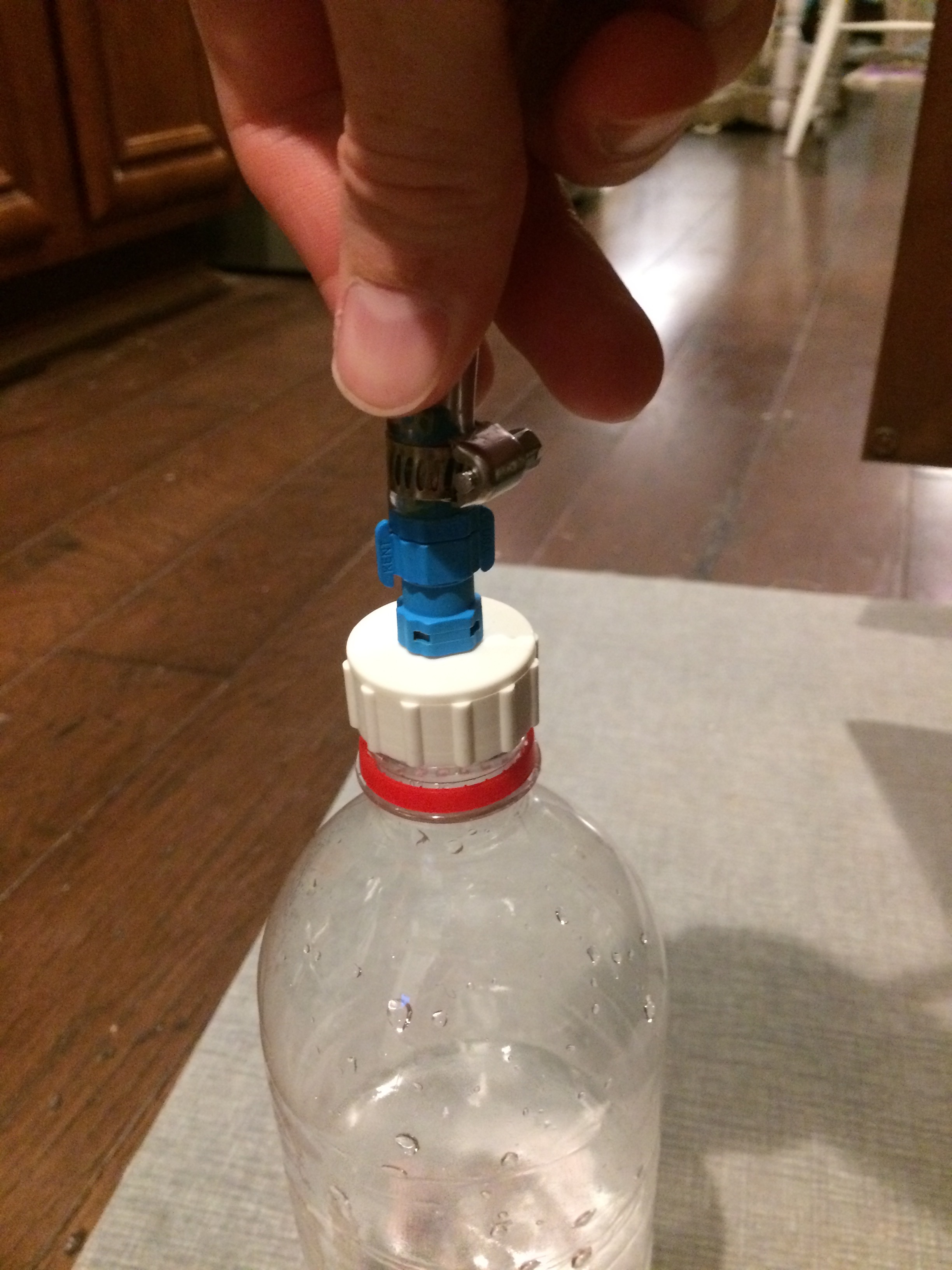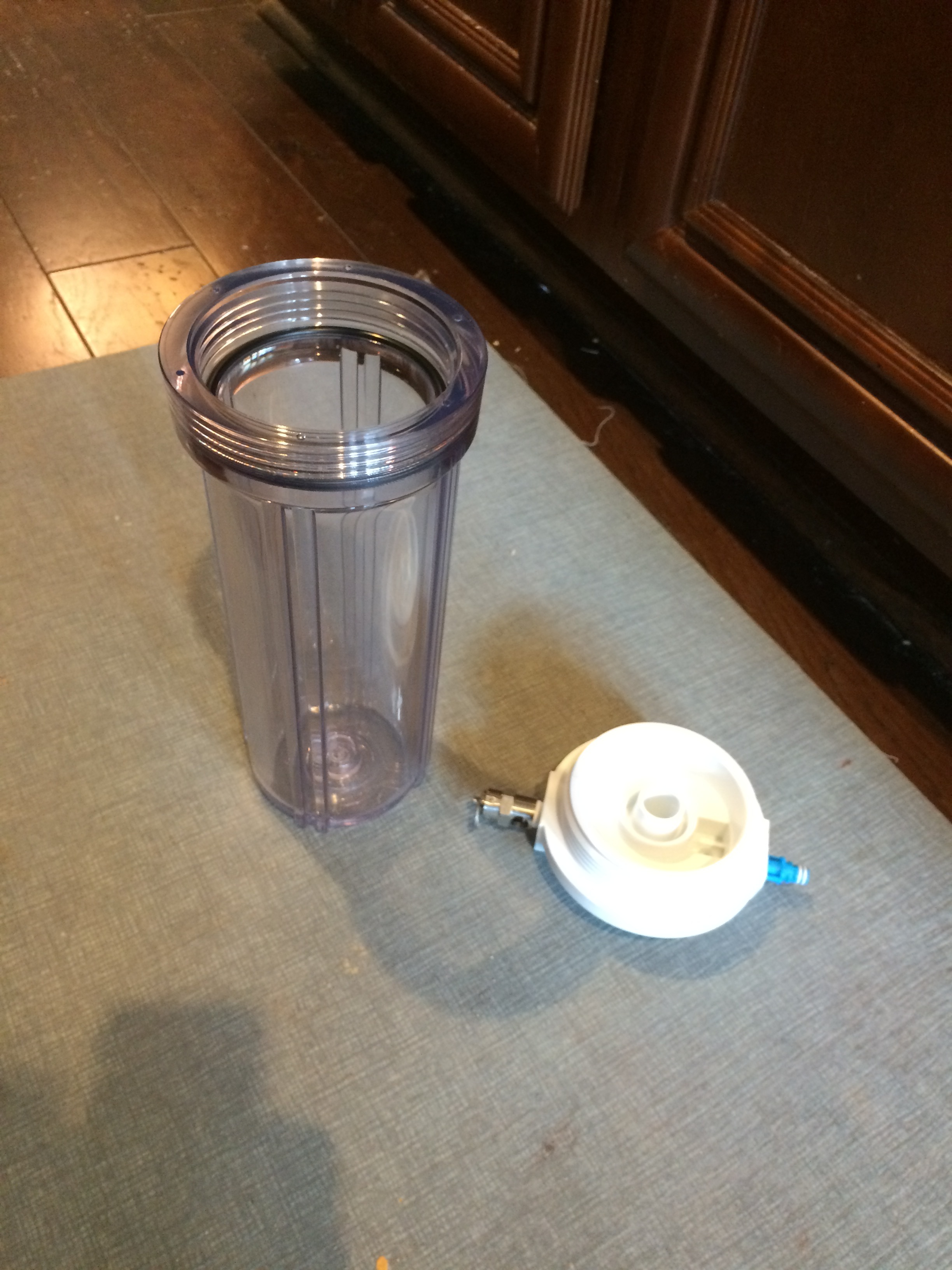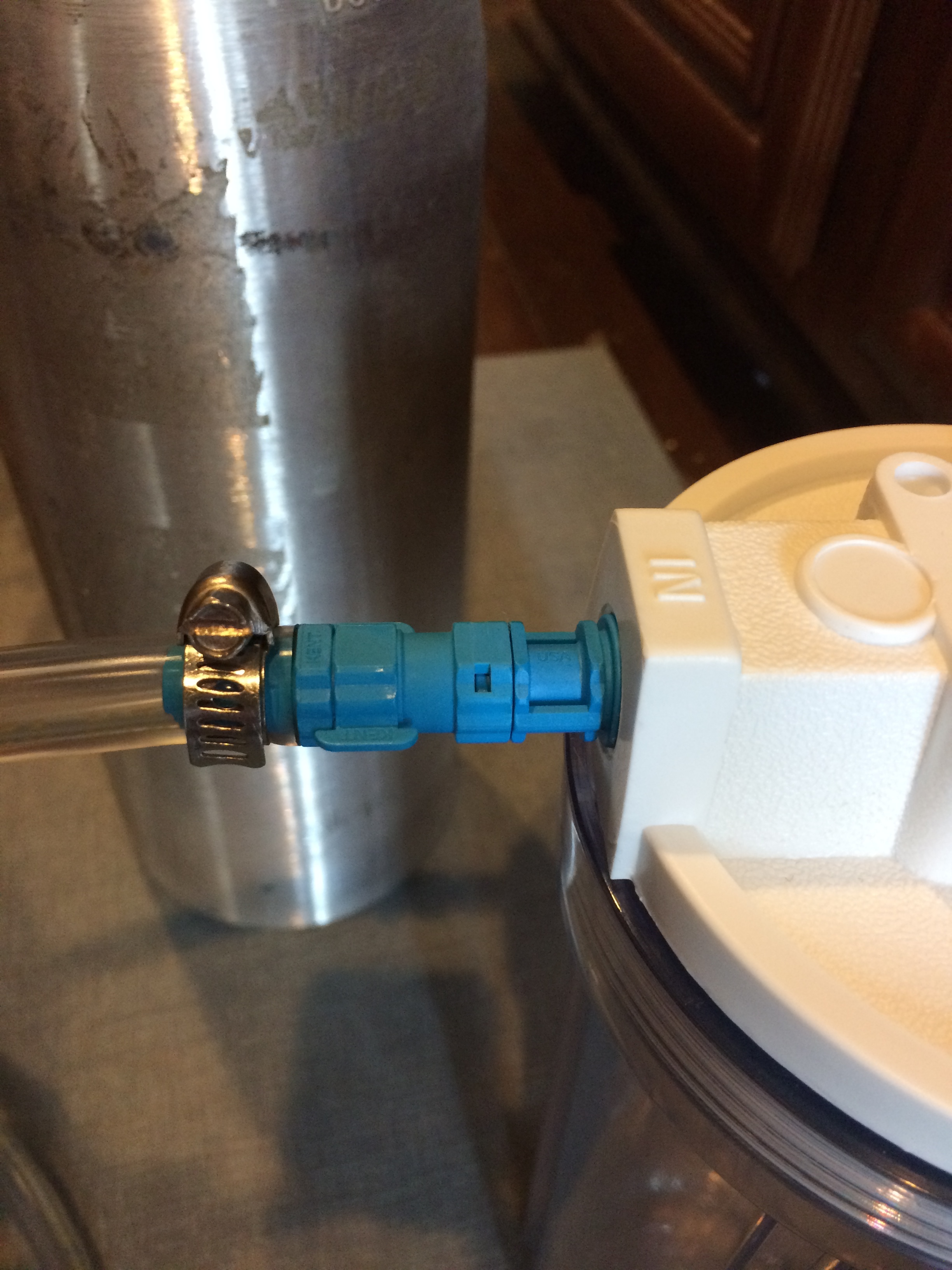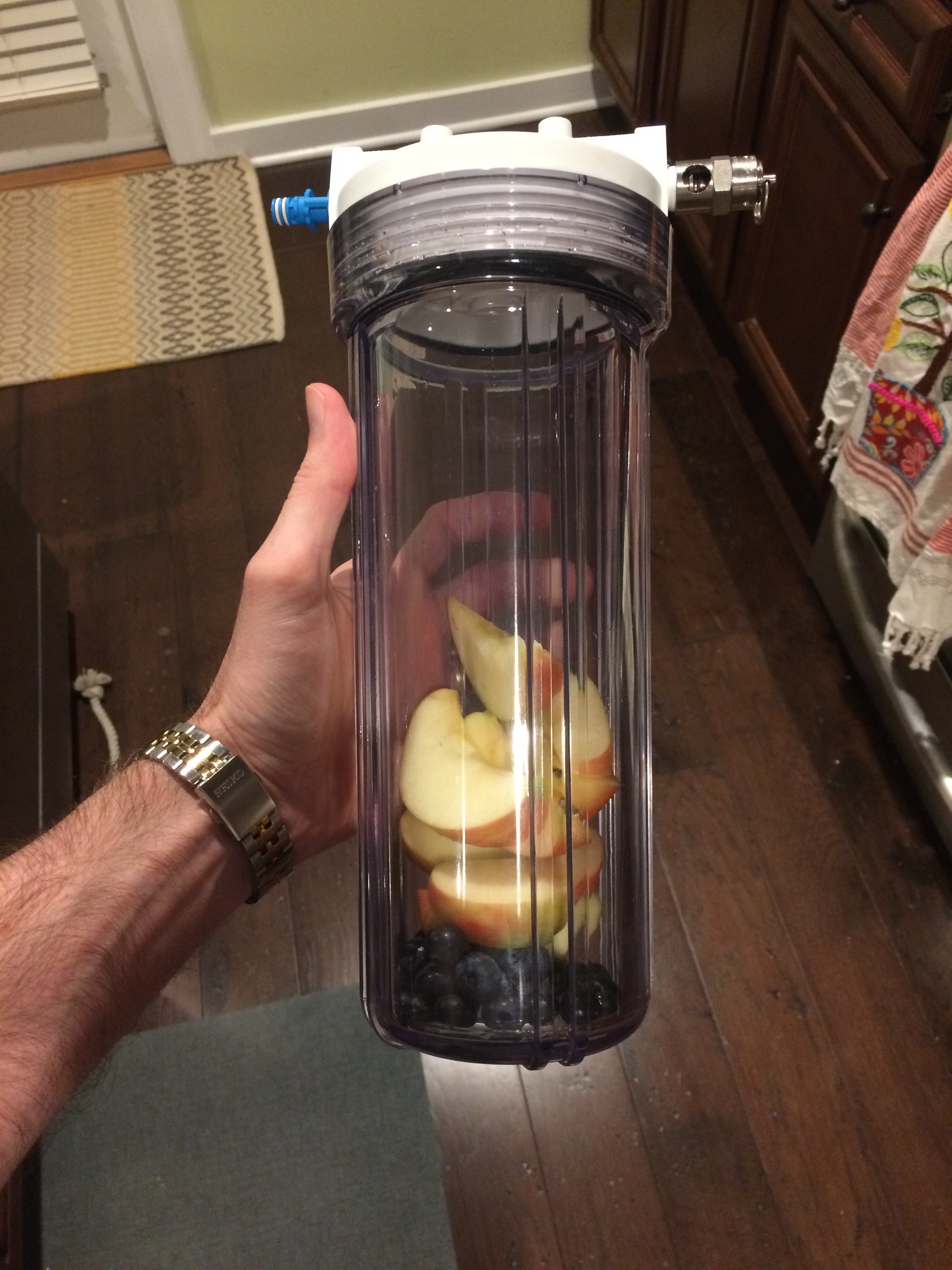 Parts and Notes
Warning! High pressure CO2 can be dangerous! The filter housing used here is not designed for pressurized gases, so use at your own risk.
Regulator and hose (all from kegoutlet.com):
CP101 Worm Clamps, 2
HO103 Hose - Gas Hose (Clear 1/4" ID X 1/2 OD), 5 ft
RG502 Regulator Gauge Cage
RG000-14 CO2 Beer Regulator - Double Gauge - Taprite - 1/4" Barb
Bottle caps and quick disconnect CO2 connector:
Quick disconnect fitting should have a barb that matches the barb size of the regulator, and hose should have matching inner diameter
Kent Systems: morebeer.com
Additional bottle caps: morebeer.com, brew.kentsystems.com (may be able to get a free sample after shipping)
Better washers: morebeer.com
Filter housing for carbonating fruit:
Pentek 158116 1/4" #10 Slim Line Clear Filter Housing, amazon.com
Or, smaller capacity: Pentek 158133 1/4" #5 Slim Line Clear Filter Housing, amazon.com
Pressure relief valve for housing:
60 PSI 1/4 NPT stainless valve: zoro.com
CO2 Connector for housing: