Cut circles to fit in the top and bottom of the bucket.
Cut the bucket ~6" from the bottom.
Put the lid on and measure for a hole in the top.
Cut an exhaust hole in the top.
Cut a burner hole in the side of the bottom.
Fit the ceramic blanket into the top and bottom.
Cut a matching hole in the ceramic blanket in the lid.
Wire cut and bent to hold a button in place.
Measuring the sections of blanket to line the sides of the top and bottom.
Holes drilled for the ceramic buttons in the top portion of the kiln.
Ceramic buttons installed on the sides and lid.
Twisted nichrome wire holding the buttons in place.
A wood and metal jig to hold the burner. I would not recommend using any wood for this.
Safety first! Heavy welding gloves and safety glasses are a must, along with long pants/sleeves and closed-toed shoes.
First successful test firing!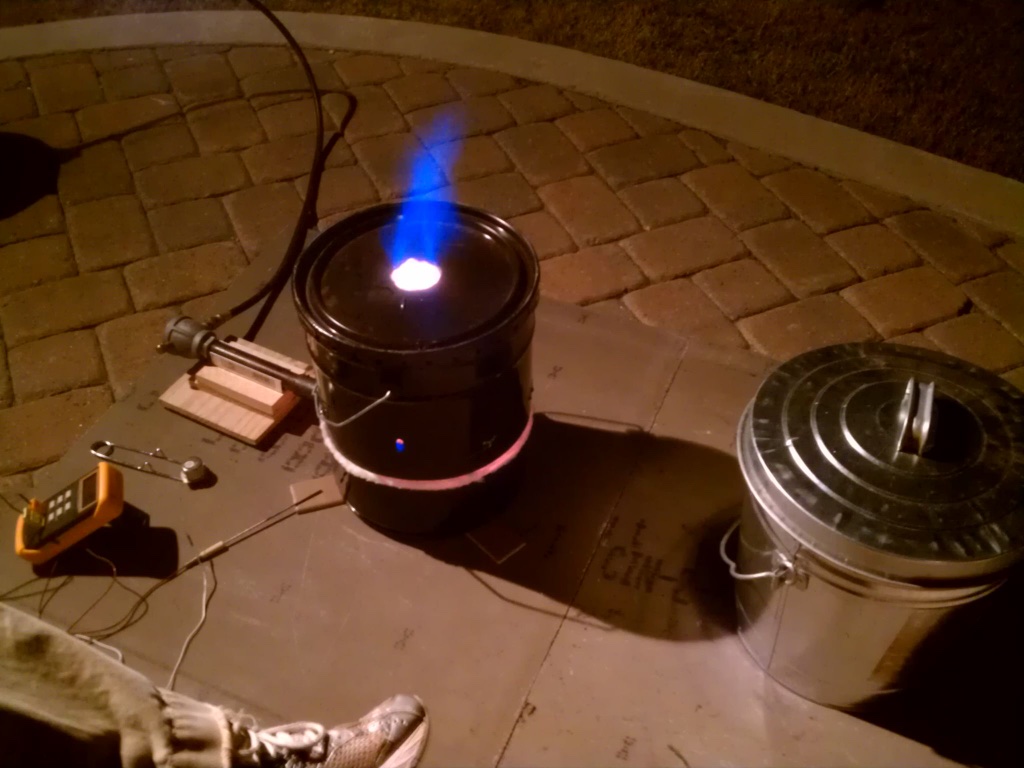 Here is the full setup: Kiln, burner, and burner holder. Not shown is the propane tank and regulator. We set the kiln on top of some old tiles, and then a cement backer board (Lowes). We also added a thermocouple (similar to this) and digital reader (Amazon). We later replaced the galvanized bucket with a cheap stainless pot.
Once a piece is at full temperature, carefully remove the lid (wearing heavy welding gloves), and have a second person lift the pot with tongs (we used old fireplace tongs from a thrift store).
Transfer the pot to the reduction chamber (we found a big, cheap stainless pot to be perfect) which should already be full of combustible material (newspaper, dry straw, sawdust, etc.).
The combustible material will catch fire, then quickly place the lid on the reduction chamber. Let it cool, and then carefully remove the pot (using tongs).
Here's an example of a finished raku pot after cleaning. No two pots will ever look the same, and be prepared to have fun experimenting with the process!